InsurTechs acquiring Incumbents
InsurTech SingLife 'acquires' Aviva's Singapore unit; and, some news from India!
Hey folks! Hope you've had a great week so far - for this week's roundup, I'll be focusing on a theme I've recently noticed where InsurTechs 'acquire' incumbent insurance companies (typically done by leveraging external capital).
SingLife 'acquires' Aviva Singapore
Aviva Singapore was valued at ~ $2.4bn in this transaction [1] - SingLife (founded 2014; last valued ~ $360M) has taken a '75%' stake in Aviva Singapore - Aviva will retain a 25% stake… So, how a 'small insurance company' do all this?!
Private Equity - the combined entity 'Aviva SingLife' has its ownership split as follows:
Aviva - 25%

Sumitomo Life (owned ~25% equity in SingLife [2]) - 20%

Minority investors - 20%

TPG (the private equity giant) - 35%
It's unclear to me how SingLife's cap table is being merged into Aviva (due to the private equity infusion) - however, assuming SingLife 'shareholders' received 20% of equity in 'Aviva SingLife' - it would represent $480M - a convenient x1.5 markup in valuation over 15 months.
Before we jump to conclusions, it's important to understand SingLife's journey so far.
SingLife - the journey
Founder Walter was CEO of HSBC Insurance in Singapore; in ~6 years since founding, SingLife has made the news for several reasons:
Before you think of SingLife as 'another insurance company', do check out what they've been dabbling with in the FinTech ecosystem…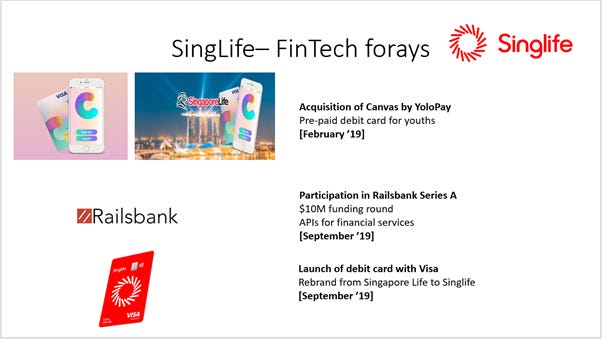 Their investment in finance API infrastructure company Railsbank was very interesting at the time; in hindsight, since Railsbank is powering the SingLife account, this investment makes a lot more sense!

The SingLife account is a novel spin on a 'Unit Linked Insurance Plan' (ULIP):

2.5% yield on the first SG $10,000 in the SingLife account; 1% yield on deposit up to SG $1,00,000.

An unemployment insurance benefit

Sum insured = Average of previous 3 months spend on the SingLife card.

Trigger condition = Unemployment for 4 consecutive months 

Term life insurance cover with sum insured = 5% of the account deposit value.
In conversation on the Asia InsurTech Podcast, SingLife's CEO mentioned that markets they're also looking at are Malaysia, Indonesia, Vietnam and Thailand - so there's more where this has come from!
2020 has been a year for InsurTechs to acquire insurance incumbents:
Buckle (US Rideshare Insurance) acquired Gateway Insurance [6]

Controversial: Hippo Insurance (US Homeowners Insurance) acquired Spinnaker Insurance [7]
I believe we'll see more InsurTechs leverage PE funding to either get carrier licences or use the inorganic 'acquisition' route to become insurance carriers.
---
Short pause before we jump from Singapore to India; if you've found this interesting so far, please do consider subscribing (if you haven't already)
---
News from India
There are two major updates for readers who want to delve deeper into the Indian ecosystem:
Cohort II of the InsurTech sandbox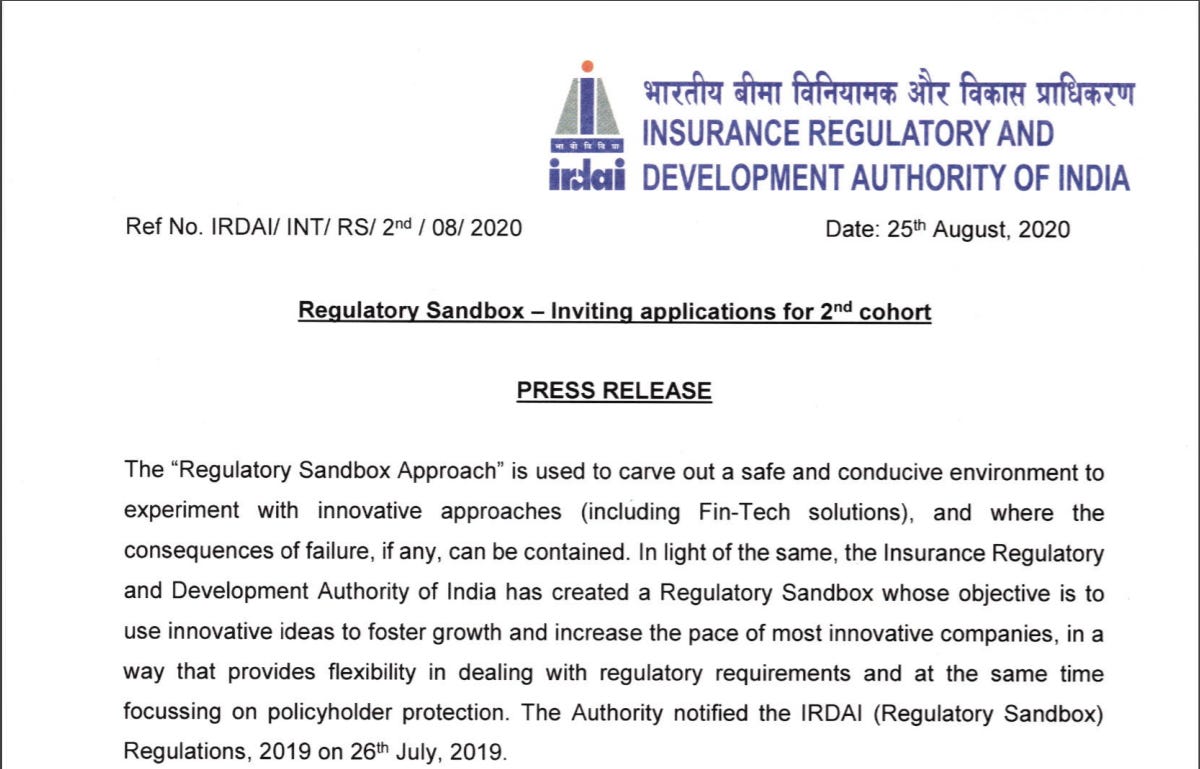 Cohort I of the IRDAI Sandbox (split across 3 tranches) has permitted a significant amount of product innovation within insurance -
a. Pay-as-you-drive motor insurance
b. Wearable linked health insurance
c. Trade credit & parametric insurance
I've written about Cohort I of the IRDAI Sandbox in my Q1 FY 21 review here. I'm certain Cohort II will bring even more novel products into the market!
No paperwork!
Probably the most exciting news to come out: wet signatures and physical documents are no longer required for Life, Health and other General insurance policy purchases..

Note: This announcement provides a huge tailwind for digital insurance sales; especially given that Aadhaar e-KYC has been accepted by IRDAI for ~20 insurance carriers since the onset of Covid-19
Fundraise!
This week, i3 Systems has raised a $1.5M round led by Unitus Ventures. i3 provides AI for claims and underwriting automation. They count ~6 Indian insurance companies as clients; have a team of ~35 and have been trading for ~4 years..
---
That's all from me this week - I've chosen to keep it brief since there's a lot going on at my end! As always, I look forward to your thoughts, comments & feedback. If you found this interesting/insightful, please do share it forward!